First Aid - American Red Cross
2.8.1
First Aid App – Learn How to Provide First Aid
Are you in need of first aid? Do you find yourself in an emergency and have to give first aid to someone? If yes, then this first aid app can come in handy. First Aid – American Red Cross is a nice app that offers tips and guidelines on how to provide first aid in emergencies until medical help arrives. It offers detailed step-by-step instructions on what to do when faced with an emergency of any kind. Be it a natural disaster, a weather hazard or a medical issue, you will find tips in this app on what your immediate response should be. Aside from the guidelines and tips, there are visuals and animations to better understand the first aid tasks you might have to perform.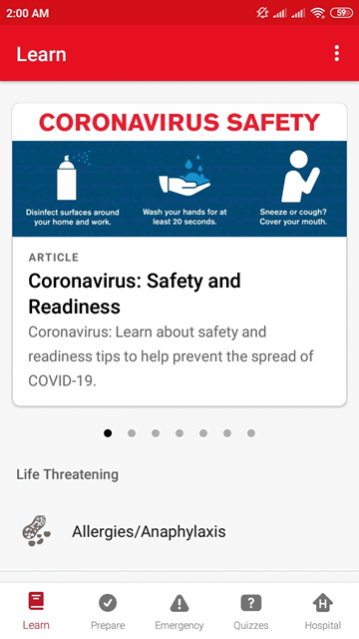 First Aid – American Red Cross has a user-friendly interface and intuitive design and layout. Navigating this first aid app is very easy and anyone can do it thanks to the smartly-designed home screen. You will find links to all the major sections of the app there and can move from one section to the other with a touch of a button. Since it is the official app of the American Red Cross, all the information and tips regarding the first aid that it provides are authentic and can be practiced without fear. Each bit of knowledge you find in the instructions has been checked and rechecked by medical professionals. So, having this app can help you save someone's life in a crisis.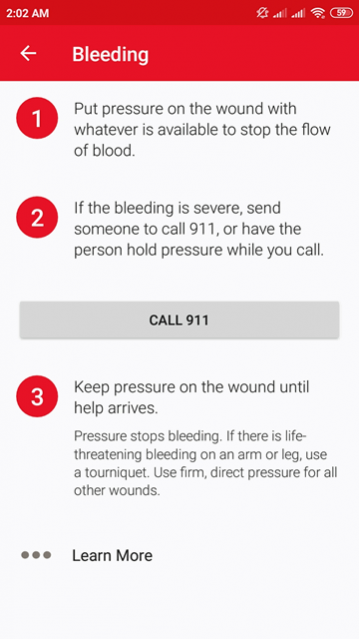 This first aid app has separate sections dedicated to all types of different emergencies where first aid might become necessary. For instance, there are sections devoted to natural disasters like earthquakes and tsunamis. You can find instructions on what you should be doing in such circumstances and how you should prepare yourself for them. Also, there are sections available in this app for medical emergencies too. They give you a stepwise guide on how to assist people that require immediate first aid. The instructions are worded in a very simple language and can be understood easily. If you are having difficulty understanding them, there are videos and animations available too. They can make learning first aid both quick and fun.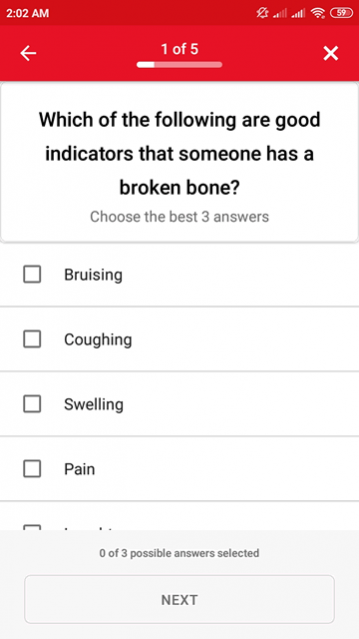 First Aid – American Red Cross makes you prepared for any kind of emergency. It doesn't just give you information about first aid, though. You are offered interactive quizzes in this first aid app as well. The objective of these quizzes is to test your knowledge about first aid and see if you can provide first aid to the people in need if an emergency occurs. You can earn badges if you pass these quizzes and can share them with your friends. This app has an emergency section too that can be used for immediately calling for help when faced with any kind of emergency. The app is available in both Spanish and English and you can easily toggle between the two in the Settings section.
Features:
User-friendly interface
Intuitive design and layout
Authentic information regarding first aid
Informative and detailed instructions
Several categories to pick from
Tips available on multiple types of emergencies
Quizzes on offer to test your knowledge
Emergency section to call for help immediately
Animations and videos on offer for quicker learning
Locates hospitals near your location
Available in both English and Spanish languages
Conclusion:
First Aid – American Red Cross is an app that will primarily appeal to people who want to know how they should react if confronted with a medical emergency. It provides detailed instructions on what to do if you find yourself or anyone else in immediate need of medical help. It is a first aid app that everyone should have on their phones.
---
Add a review
Tell us your experience with
First Aid - American Red Cross
2.8.1
RELATED PROGRAMS
Our Recommendations
---
---
---
---